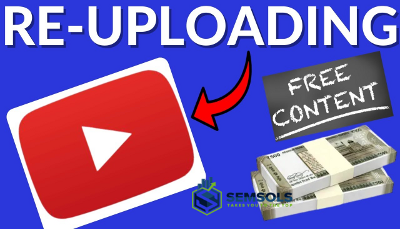 Do you want to earn $1000, $10000 or even $50000? 
That also by only uploading free content on YouTube.
Do you know You don't have to take the content of any YouTuber. You only need to use free content and upload it on YouTube by creating your free channel on YouTube. You can earn a good amount of money as a part time income. In this video post you will come to know how Channels are using this with Step by Step Process. How to Get free Content? So do not skip any part and go through this post till the very end. If you are new to our channel, kindly subscribe to our channel so that you get the latest notification on how to earn online related videos. Also share our videos to your friends and relatives so that they can also come to know about how to earn online for free.
Let us begin our tutorial and know how to upload free content on YouTube. Socialblade.com is a website to track user statistics for YouTube, Twitch, Instagram, and Twitter!
The earning proof shown in the video was of YouTube channel Audio Library – Music for content creators and we have checked its stats on socialblade.com. They are using copyright free content on their channel and earning from there. They have video views of more than 14.02 M in the last month. Their estimated earning is from $3.5K -$56.2K. They have 70 K subscribers gained in the last 30 days.
So you also need to earn by creating such channels . SO let us see exactly how to do this? First of all go to YouTube and search for copyright free music. You can see there are various channels. We just checked Audio Library – Music for content creators, then there is NoCopyrightSounds they have 28.3 M subscribers, Copyright Free Music they have 69.6K Subscribers. Let us analyze it. They have video as Royalty Free Music | Victory – Hip Hop Beat | No Copyright. So how to find free content?
Open Soundcloud.com and search rap in the search box.
This is the most unique way to search for free music. You will get track now click on it. You will Filter by tag option. Now select Hip-hop & Rap and then select to listen. Now you will get a list. Now open any music video and go to the comment section. Lil Devon is the creator and is a budding artist who has uploaded this video. So you can contact him on Instagram by the link provided in the soundcloud profile. He has 336 followers and he needs marketing. So we can contact him
I have written as
Hey Lildevon,
I am a YouTuber and I have a channel promoting music tracks. I have gone through your music track and loved it. I want to promote your music on my YouTube channel so that you can gain more visitors and popularity. Kindly provide me your music or give me a go ahead to promote it. I will put all your contact details as in the soundcloud profile. So they will easily go ahead and provide you with music. Once approved and got go ahead, then you can easily edit and upload 3-4 videos easily in a day on YouTube Channel and you can grow traffic.
Now go to Google and search Download soundcloud songs. Now select the url of soundcloud video which is to be downloaded and paste it on soundcloud sclouddownloader.net. Now you have free music and now you need to know how to edit it. They have a logo as CFM.
So we need to select a template and we have to load the audio file from the computer. If you want to make some changes you can easily do it. You can change background, image in BG, spectrum in the settings and preview it. Now you can export it and save it on your system. SO you have now a video with audio sound. Now how to select the title of your video. You can also make titles by naming the video then track which you have selected. Then include royalty free music and use the name of the artist whose music you have used in the video. SO draft such a title. Also in description use the name of the artist and sound cloud profile details with his contact details. Now you need to find the tag of YouTube video on grabyoutube tags of artist's video and use the same on your video to earn good money.
So you can complete all the details after uploading a video on your YouTube channel. Also use #tag. So you can also earn through uploading videos and earn through Google AdSense. So this is how you can earn by uploading free copyright music and editing video and uploading it on YouTube channel. If you have any query regarding this video you can contact us or write it in the comment section we will reply.